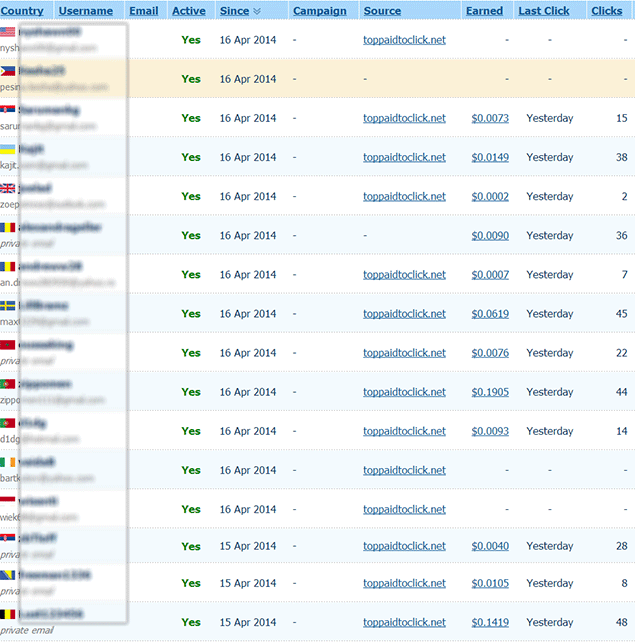 Increase your online activity
Start contributing to forums and the comments section of websites. Don't start spamming every website you can find with all of your referral links because you will anger a lot of people and you will not get quality referrals that would actually be active for you.
There are many forums and blogs that you can contribute to and a simple Google search of keywords like "earning forums" should get you desired results. You need to have a signature at the bottom of all your posts with your referral link or a link to your website. If you are a helpful and respected member of the forums that you post on then people will check out your links to see what else you have to offer them.
Social networks like Facebook, Twitter, and Google+ are also great tools for sharing your link with other people. But don't spam! Provide valuable comments and people will be more likely to click your links.
Start your own website or blog
Sign up to WordPress, Blogger or get your own hosting plan which will offer you more options. A few excellent hosting providers:  Dreamhost, Hostgator, LiquidWeb, Bluehost, FatCow.
Get your own domain name at GoDaddy. Select one that contains popular keywords like ptc, paid to click, money, cash and so on. A domain name that contains phrases potential visitors would type on search engines are going to help you get organic traffic.
Start writing and adding banners from different PTCs which can be found in the promotional section of the sites (sometimes referred to as "referral tools" or "promotional tools"). You shouldn't just have a page that is loaded with banner ads and nothing else. There needs to be quality content that gives visitors all the required information to sign up on PTCs. You should also provide your own experiences and tips.
At the beginning you won't get much visitors but your site will grow over time so be patient and don't rush.
Spread the word
Talk to friends, family, neighbours and anyone else that you can find and point them to your website that will give them all the information they need to get started.
Join traffic exchanges and downline builder programs
Traffic exchange websites are also a very good way to promote your referral links and websites. Just sign up and add your links. For every website you surf someone will surf on your site which can lead to sign ups on your PTCs.
Get free credits from your referrals on 5 levels: 10% of credits earned by your 1st level referrals, 5% of credits – 2nd level, 3% – 3rd level, 2% – 4th level, 1% – 5th level.
Get paid $0.30 for every 1000 sites surfed and $0.10 for every person you refer that surfs 100 or more sites!


It's going to take some dedication on your end to be successful with this. It's possible you won't see desired results for the first few months but remember that hard work pays off. There is some really good money to be made with PTC sites for people who are serious and committed to it.
Most people give up too quickly so just stick with it and you'll be rewarded.