NeoBux is the Best PTC (paid to click) site to date. It is online since 2008. At the beginning you'll earn small amounts but with a bit of work and persistence you can earn hundreds of dollars per month or more. The site is easy to use and it will cost you only 15 minutes of work per day. You can join for free. By upgrading to Golden membership you'll earn 10 times more from you own and referrals' clicks, plus you will be able to have a higher number of direct and rented referrals which is crucial if you want to make big amounts of money. You should consider upgrading when you get a decent number of active referrals because then you will a lot more on a yearly basis than you will pay for the yearly upgrade.
This site is unique from other PTC sites since it has a referral renting system, so you don't have to worry about direct referrals. So if you have nobody to refer then just rent.
After you register you must view at least the 4 yellow advertisements (that is the daily minimum you must view to earn money from your referrals for that day). If you want to earn more then view all ads + the AdPrizes

The key features of this site are:
Very popular and Safe

: There are over 20 million registered members and it has paid out over $80 million (USD) to it's members. There were no technical problems with the payments and it has a very strong anti-hacking system, so it is very safe to use. The site has opened in 2008 and has been growing since then.

Rented Referrals

:  You can build up your income just by renting people for 30 days and they generate you the income.

Great Support

: It is nice to see that NeoBux staff cares about it's members. Live support is available but if you want just simply write a ticket about your problem and they will resolve it in no-time!

AdPrize

: After each ad you view you have a chance to win from $1-50 or Premium membership which is very beneficial.

Direct Referrals

: Optional but if you can refer many people you can earn through them and they don't cost you a penny, plus you can sell them later for 1-5$ each based on their activity

MiniJobs

: They can be done in 2-3 minutes and most of them are data entry jobs.

Other Offers

: Here you can get NeoPoints (premium currency) and NeoCoins (can be converted to real money) for completing free offers or buying things online.

Low 

Cashout & No Fee

: The first cashout is at $2 that you can take out to PayPal/Payza/Neteller. After that the minimum will increase by $1 stopping at the fixed sum of $10. Also there are no fees from NeoBux so what you earn is what you get.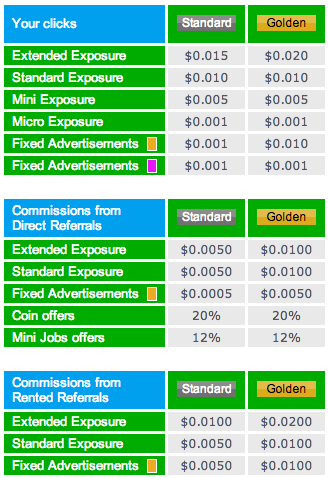 The Golden upgrade gets you higher commissions from your clicks and referrals' clicks. The standard membership direct referral limit starts at 30 referrals and increases by 1 every 4 days. In comparison the Golden upgrade starts at limit 200 and increases by 1 every 2 days.
If you want more information I recommend you to browse the NeoBux Forums. There are many members that have earned more than $10,000. A good example is a member named "rseven" that has earned $150,000 in 3 years!