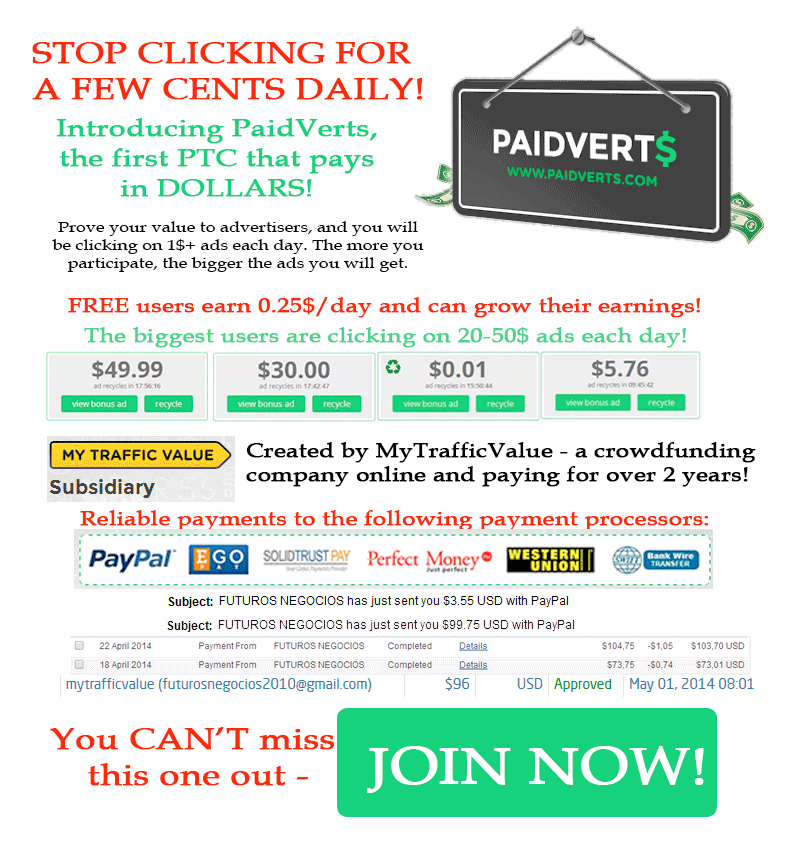 PaidVerts is a new and highly promising site. It was crowd-funded by MyTrafficValue investors (a site running since 2012) so it's run by an experienced admin.
Revenue share mixed with PTC which means that all revenue is distributed as adverts and you have to interact with the ads to get paid (you have 18 hours to click any ad assigned to your account)
Unique design, script and marketing plan
You get 10% referral commission for your referrals' purchases and 5% from their clicks
Payment processors: PayPal, STP, PerfectMoney, EgoPay, Bank wire, Western Union.
An $1 adpack gives $1.55 of delivered ads (5% goes to your upline) so you earn 47,25% profit with every dollar
For 5 cents you can upgrade your account and get more recycled ads (skipped by other users)
You can earn for free. Just watch activation ads and wait for some paid ads
A lot of statistics and public information. Total transparency.
Tips:

1) Keep your account active!
 
Only active accounts receive paid ads. You can view 'activation ads' from your members main page at any time. Every activation ad you view adds 7 days of active status to your account + 25 Bonus Ad Points (BAP)!

– View all activation ads all at once to accumulate BAP and activate your account well in advance. You can view up to 5 activation ads each day.
– If your account goes inactive you can re-activate it at any time and pick up exactly where you left off!
– If you're going on holiday let your account go inactive! This will save your Bonus Ad Points from being consumed by ads that you don't click. 
– You have 18 hours to click on each ad that's delivered to you or it'll be recycled and given to somebody else!

2) Bonus Ad Points (BAP) 
BAP are the key to making loads of money with PaidVerts. These are how we distinguish freebie junk traffic from the valuable users that advertisers are interested in communicating with. 

3) Advertise with PaidVerts! 

For every dollar spent on our Bulk Ad Packs you get:

– 50 visits to your website for 30 seconds, after the user has typed out your three main selling points in captcha form. 
– 100 banner impressions of our 125*125 px banner rotator
– 25 exclusive top of page banner impressions for our 728*90 banners
– And we even throw in 3100 Bonus Ad Points for your account! Thats $1.55 worth of paid ads that'll be delivered to your account ASAP!

If you want to earn from your purchased ad packs – you will have to click on paid ads which will be delivered to your account.

4) Earn maximum
– If you want to earn for free simply view activation ads each day. This will give you 200 BAP which will send you $0.10 worth of ads ASAP – much better than any other PTC! Once you get $1+ in earnings buy ad packs to increase your BAP.
-Buy $0.05 recycle upgrade that will ensure you get sent $1 worth of recycled ads ASAP. These usually amount to $0.1 – $0.3 worth of recycled ads sent to you each day!

The more BAP you have the more valuable ads you will usually receive! $0.0005 – $200 ads are sent out everyday!